the smart way to monitor

everything that matters
DID YOU KNOW THAT 80% OF BOATS THAT SINK GO UNDER WHILE DOCKED?
Whether you have a 21-foot outboard, a 35-foot cruiser or 42-foot catamaran, industry data* shows that the majority of sinking/water incidents take place while you're away, and your boat's docked.
NOW THERE'S A SMART WIRELESS WAY TO KEEP YOUR BOAT AFLOAT.
ARM IT MARINE provides a suite of wireless smart sensors that keep you informed and alert 24/7. With ARM IT wireless and sensor technology, you'll be able to monitor high water levels remotely without draining your battery or relying on an electrical outlet. It's totally self-sufficient.
DISCOVER THE FULL SUITE OF

ARM IT SMART SENSORS.
ArmIt remote monitoring solutions for boats
We make it simple. ArmIt provides battery powered, monitored sensors that get installed on your boat. Monitor bilge alarms or bilge water levels, open or closes on hatches, doors or cabins, temperature or water leaks. No hubs, no gateways or complex programming. Set up in minutes.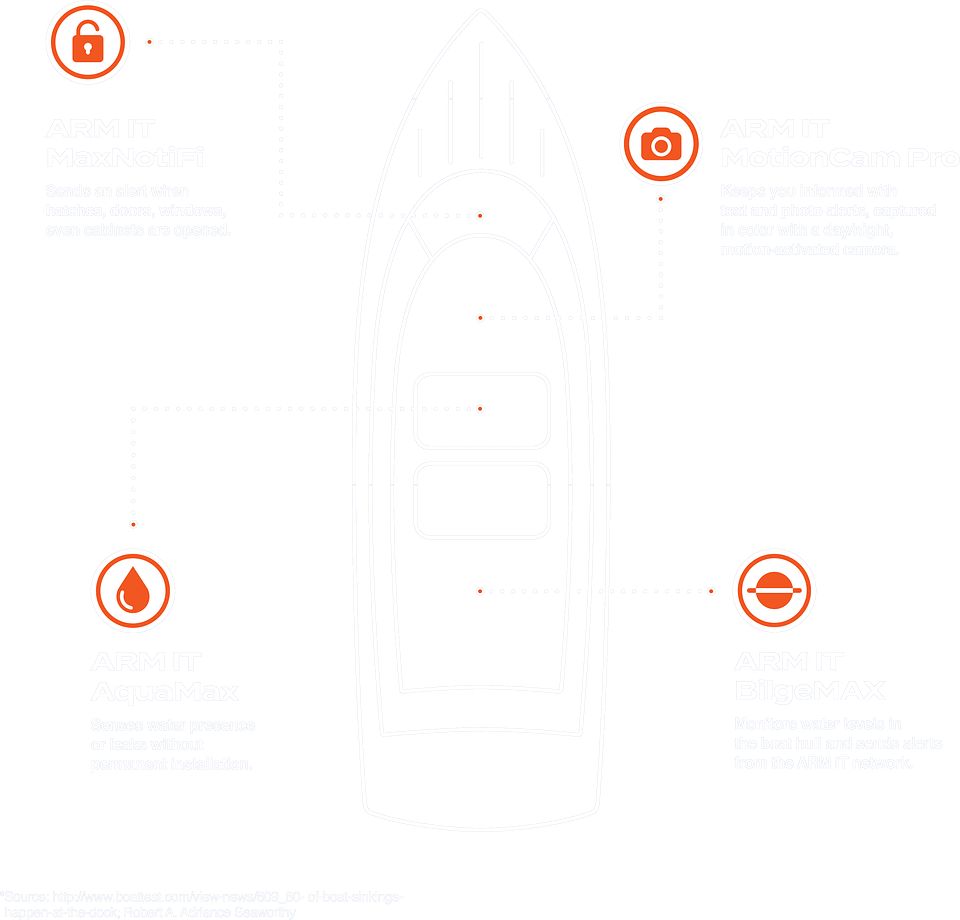 Customizable
From your myARMIT.com dashboard, you can change device settings and customize alerts, notifications, multi-sites and unlimited devices.
Personal cloud storage
The ArmIt Network provides complete device management and history, you can view everything on a powerful, customizable dashboard.
Self updating
ArmIt cellular monitoring sensors have full two-way authentication and over-the-air provisioning. When a configuration change is made to your ArmIt MAX Series sensor, the next time it contacts the network, it self-updates.
Easy to use notifications
Basic service includes ArmIt Alerts with unlimited text messages, eMail alerts, and fully customizable device management from your dashboard.
Network Inside
With the cellular connection built-in use ArmIt monitoring solutions 'anywhere' in the world.
Security
Monitor Boat Security. Boat cabin and hatch sensor alarms. Boat motion sensor camera.
Battery Powered
No wiring to boat power systems required. Each ArmIt sensor has an easily replaceable battery.
PEACE OF MIND 24/7 WHEN YOU MONITOR EVERYTHING THAT MATTERS
Starting at $69.99 per year, ArmIt Network provides IoT-Monitoring and Alerts for your device.
Simple Setup
Activate ArmIt sensors in minutes.
Free delivery
For USA States and Territories and Canadian customers
Secure payment
Most trusted online payment system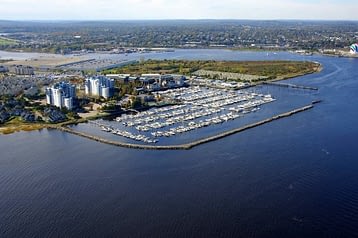 Brewer Marina Bay Boston -- New England's premier marina -- has signed on to be an ARMIT Marine Part...
August 20, 2020
Read more

»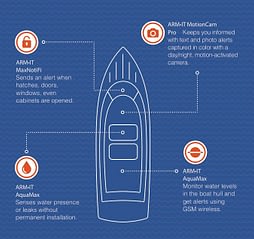 ArmIt Marine's suite of smart boat sensors are the perfect ...
October 25, 2019
Read more

»
Frequently Asked Questions
How much is the annual notification and cellular water monitoring alarm service?
Our service is $69.99 per year.
How long do the batteries last?
Using a high-quality Lithium battery, users can expect to get 200 cycles of use over an extended period.
How do I know if my device is working?
Your ArmIt device is configured to check-in to the network every 15 days and all device activity and operation parameters are available in your account dashboard at myARMIT.com.
How quickly will I be notified if water level, motion or water leaks are detected?
Being a fully battery operated device it takes about one minute for the notification sensor to process and sends its status change to the ArmIt network.
I own a marina, can I manage multiple devices easily?
Yes, you can. Contact ArmIt or your sales representative to establish a dealer account.
Do you have installers?
Send an email to info@armit.co and we will be happy to get you contact info a dealer/installer in your area.
Start protecting what matters most with a free month on us!
[contact-form-7 id="218″ title="trial form"]
Sign up for free month promo-code, member exclusives, and insider access
Water
Boat Bilge Pump Monitoring, bilge water level Monitor or monitor you're for boat water leaks. Receive instant alerts to your smartphone and eMail.
Photo Alerts
With MotionCam Pro - Receive instant photos when someone enters your boat or protected area.
Temperature
Monitor temperature range for freezing or excessive heat and get instant alerts when out of range.
Designed for simplicity.
ArmIt Marine monitoring sensors for boats were designed to be the easiest, most cost effective way to monitor your boat. Bilge pump, bilge water level monitoring for $69.99 per year is an easy decision for boat owners.
``There is no better feeling than getting that ArmIt Check-In Alert letting me know all is well and my BilgeMAX is watching the boat on its mooring.``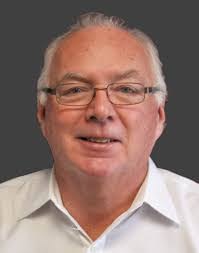 Steve R. - Westchester, NY
For the cost of two cases of beer and a bag of ice, I am monitoring my boat for the year. It's really a no-brainer
Angelo M., Nantucket, MA
I can't believe how simple the install process was and I'm amazed at how much technology is in this little sensor.
Peter D., Point Pleasent Beach, NJ
We'd love to hear from you
Contact now
USA +1 201-497-0900
CAN +1 647-792-8900
We're ready to answer any questions you might have about our products, a new service, or any other help you need. You can call us at the numbers above. Or, fill out our information form below and one of our team members will be in touch as soon as possible.
[contact-form-7 id="230″ title="Contact form1″]